Heute - am 3. Oktober 2017 um 20:00 Uhr (Ortszeit) - feiert die Show
"Springsteen On Broadway"
ihre Premiere am New Yorker Broadway. Das Bühnenstück gastiert bis zum 3. Februar 2017 insgesamt 79 Mal im
"Walter Kerr Theatre"
an der 219 West und 48 Strasse im Herzen Manhattans.
The Walter Kerr Theatre, New York City
Das 960 Zuschauer fassende "Walter Kerr Theatre" wurde 1921 von Herbert J. Krapp erbaut und im Jahre 1929 feierlich eröffnet. Unter anderem wurden in diesem Schauspielhaus die bekannten Stücke "Murder in the Cathedral" (1938), "I Hate Hamlet" (1991), "Angels in America: A Gay Fantasia on National Themes" (1993), "The Weir" (1999), "A Bronx Tale" (2007), " A Gentleman's Guide to Love and Murder" (2013) und "Amélie" (2017) gezeigt.
Bruce Springsteen kündigte am 9. August 2017 insgesamt 39 Solo-Akustik Shows am Broadway an. Wegen der grossen Ticket Nachfrage wurde das Gastspiel am 30. August 2017 kurzerhand bis zum 3. Februar 2018 verlängert.
Bruce Springsteen beschreibt seine Broadway Pläne mit folgenden Worten: "Ich wollte eine Show auf die Beine stellen, die so persönlich und intim wie nur möglich ist. Die Show besteht nur aus mir, einer Gitarre, einem Klavier sowie Worten und Musik".
Die Bühne: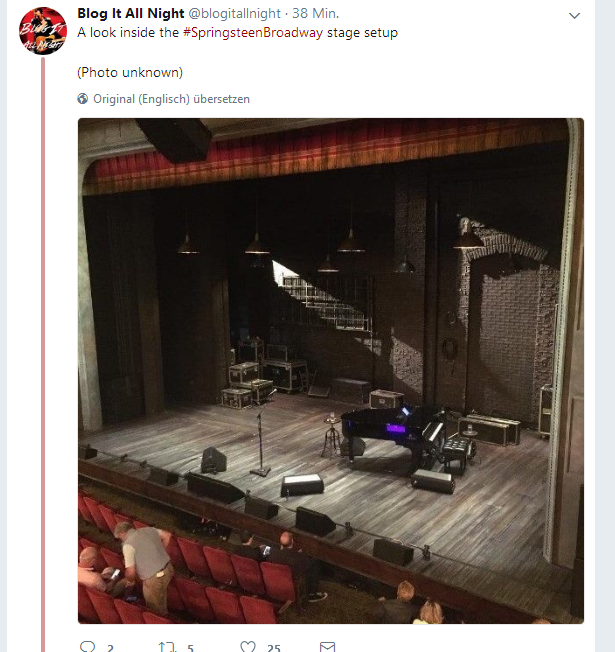 Offizielle Pressemeldung:
Zitat:
Springsteen on Broadway is a solo acoustic performance written and performed by Bruce Springsteen under the lights of Broadway. It is an intimate night with Bruce, his guitar, a piano, and his stories. "My vision of these shows is to make them as personal and intimate as possible. I chose Broadway for this project because it has the beautiful old theaters which seemed like the right setting for what I have in mind. In fact, with one or two exceptions, the 960 seats of the Walter Kerr Theatre is probably the smallest venue I've played in the last 40 years. My show is just me, the guitar, the piano and the words and music. Some of the show is spoken, some of it is sung, all of it together is in pursuit of my constant goal—to communicate something of value," says Springsteen.
Am 19. September 2017 und am 22. September 2017 wurde "Springsteen On Broadway" jeweils 200 geladenen Gästen im "Pollak Theatre" in Long Branch, NJ gezeigt. Ausserdem fand am 26. September 2017 eine Rehearsal Show im "Walter Kerr Theatre" statt. Zur Generalprobe waren ausschliesslich Pressevertreter, enge Mitarbeiter und eine Handvoll Fans geladen.
Setlist – 19. September 2017:
Growin' Up, My Hometown, Born in the USA, Thunder Road, Brilliant Disguise, The Wish, My Father's House, Born to Run, Land of Hope and Dreams, Tougher the Rest, The Promised Land
Setlist – 22. September 2017:
Growin' Up, 10th Avenue Freeze-Out, Born in the USA, The Ghost of Tom Joad, Dancing in the Dark, The Rising, Tougher That The Rest (mit Patti Scialfa), Brilliant Disguise, Born to Run
Setlist – 26. September 2017:
Growin' Up, My Hometown, My Father's House, The Wish, Thunder Road, The Promised Land, Born in the USA, 10th Avenue Freeze Out, Toughter Than The Rest (mit Patti Scialfa), Brilliant Disguise (mit Patti Scialfa), The Ghost of Tom Joad, Long Walk Home, Dancing in the Dark, Land of Hope and Dreams, Born to Run